New Nokia 3310 design and display
Looking at the new Nokia 3310 front-on and there's no mistaking the phone it is paying homage to.
The distinctive border around the screen and the layout of the 'num' keys give you the retro throwback, but Nokia has majorly slimmed down and modernized the design making the new 3310 supremely pocketable.
It tips the scales at just 79.6g, making it comfortably lighter than the 137g original, and once you slipped it into your pocket you'll forget it's even there.
The plastic construction feels solid, but only time will tell if it will withstand the kind of beatings the first generation Nokia 3310 survived time and again.
You'll be able to pick up the new Nokia 3310 in the traditional dark blue and grey of the original, but also in the new, psychedelic yellow and 'warm red'. We managed to check out all four colors during our hands on time, and our favorite was the good old dark blue.
The design is solid, but we can't help but wish Nokia had stuck a little closer to the original 3310 look and feel. We could accept thicker device, and a rear which somewhat resembles the original would have been nice.
Meanwhile the display feels like a real blast from the past, but it's a significant upgrade over the old 3310. The new Nokia 3310 has a 2.4-inch, 240 x 320 full color display which is bright, but hardly crisp.
Of course you're paying very little for the phone so it's not an issue, but don't go trying to tap the menu items. Touchscreen this ain't.
Text is perfectly readable though, and the new version of Snake is playable. They're not blockbuster graphics, but if they were it would ruin the appeal of this phone.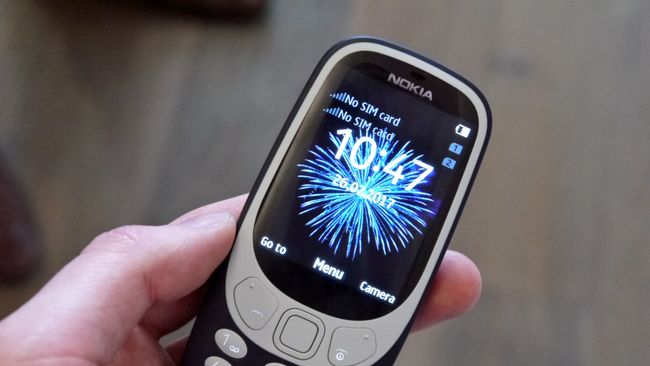 THE DETAILS
Nokia 3310
OUTSIDE
Beautiful push buttons and iconic, shaped design
2 MP camera with LED flash for simple snaps
Headphone jack for your tunes
2.4" curved window with polarized layer for better readability in sunlight
Available as both single SIM and dual SIM variants
COLORS:
INSIDE
2G connectivity for calling and texting
All-new UI with nods to the original
Awesome battery life, with up to 22 hours talk time
FM radio and MP3 player for music
16 MB storage4 plus a MicroSD card slot with support up to 32 GB
Full specs
IN THE BOX
Your Nokia 3310

Nokia Micro-USB charger

WH-108 headset*

Quick guide

*Varies by market, please check availability.
DESIGN
Colors Warm Red (Glossy), Dark Blue (Matte), Yellow (Glossy), Grey (Matte)

Size 115.6 x 51 x 12.8 mm
NETWORK AND CONNECTIVITY
Network speed 2G

Networks GSM 900/1800 MHz
PERFORMANCE
Operating system Nokia Series 30+
STORAGE
Internal memory 16 MB4

MicroSD card slot Support for up to 32 GB, memory card sold separately
AUDIO
Connector 3.5 mm AV connector

Apps FM radio, MP3 player
DISPLAY
CAMERA
Primary camera 2MP

Flash LED flash
CONNECTIVITY
Connectivity Micro USB (USB 2.0), Bluetooth 3.0 with SLAM
BATTERY LIFE
Battery type Removable 1200 mAh battery5

Max. talk time Up to 22.1 hours

Max. standby time Up to 31 days

Max. MP3 playback time Up to 51 hours

Max. FM radio playback time Up to 39 hours
New Nokia 3310 interface and performance
What's waiting for you on screen then? Android? Nope. Windows 10 Mobile? Absolutely not.
Nokia's stuck with its feature phone operating system, with the new 3310 running Nokia Series 30+.
That gives you a number of menu options with classics like Call Logs, Contacts, Calculator and Messages joined by a calendar, a basic web browser, photos, radio, music player, voice recorder and a camera application.
There's even an app store where you can download games and apps – although it wasn't currently functional during our hands on time with the phone.
We're told that Twitter and Facebook will be coming to the new Nokia 3310, so we'll likely see both crop up in the store when the phone goes on sale.
For a feature phone there's a surprising number of options in the menu of the Nokia 3310, giving it abilities above the basic text messaging and calls.
Oh, and did we mention, SNAKE IS BACK! Find out all about it in the gaming section below.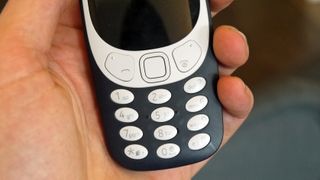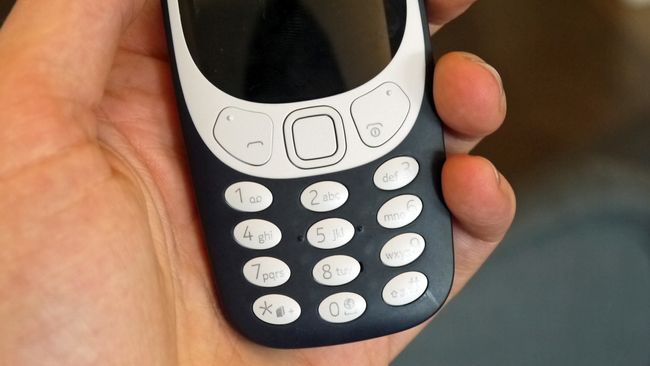 One disappointing point is the fact the new Nokia 3310 is only 2.5G compatible. That means no 3G or 4G data speeds, resulting in a very basic browsing experience.
Certain markets will also be able to download simplified Twitter and Facebook apps, but these weren't available to use during our hands on.
It also lacks Wi-Fi, so you won't be able to connect to a home or office network for a faster connection either. There is Bluetooth though, along with a music player and a 3.5mm headphone jack which allows you to listen to any tracks you put on a microSD card and slide inside the handset.
In a real retro move, the new Nokia 3310 comes with just 16MB of internal storage. That's enough to store about seven photos from the 2MP camera, and that's it! You'll definitely want to slide a microSD card into the slot behind the rear cover.
See how the new Nokia 3310 shapes up against the original 3310 in our versus video below
New Nokia 3310 gaming
Snake is back on the new Nokia 3310, but it's had quite an overhaul from the version which graced the original 3310.
Called Snake Xenzia, the new version is made by Gameloft and features a series of levels with various map layouts as well as the classic survival mode where you get an uninterrupted square to ply your trade.
The snake looks, well more snake-like, and it's all in color for your visual pleasure. If you jump straight into the game you'll find the controls require you to use just the 4 and 6 keys to direct your creature in a similar fashion to slither.io.
Snake purists needn't fear though, as a quick trip to the game's settings menu allows you to select from four different controller options – with the classic 2, 4, 6, 8 directional control present.
You can also opt to use the four way navigation pad on the new 3310 if you don't fancy using the number keys, and it makes it slightly easier to manage when playing one handed.
The navigational pad is small though and you'll need to be accurate (and ideally slender fingered) to make the most of it.